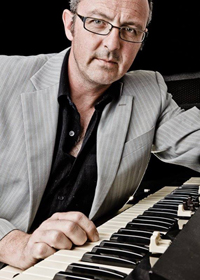 We're very pleased to announce our guest Hammond player, Cam Scott. Cam will be performing with us, The Jackson Four at Simba'r Licensed Cafe, 3pm, Sunday 13th July, 94 Poath Rd Hughesdale while Gary Jones enjoys a well deserved holiday.

Early 1976, a little left leg reached downwards and created the initial spark that would ignite into a career of music.

Over the past 30 years, bass players around the world have been replaced with Cam's driving foot-stomping pedal bass lines.

Truly the 'quiet achiever', HAMMOND organ player Cam Scott drawers on Jazz roots along with the deep embedded grooves of the 60's whilst creating a modern sound.
The Jackson Four

Swing Sundays@Simba'r - Featuring Cam Scott on Hammond Organ

When

Sunday, July 13, 2014

Where

94 Poath Road
Hughesdale, Victoria, Australia

An interesting atmospheric venue with LIVE MUSIC! Thursday - Sunday Covering African World -Jazz/Blues and a variety. Friendly table service with an assortment of meals and a wide range of wines and spirits. So come in and enjoy the difference.

Other Info

Swing Sundays@Simba'r' with The Jackson Four. 3pm, Sunday, 1st June, Simba'r Licensed Café and Bar, 94 Poath Road, Hughesdale.

This performance: Featuring Cam Scott on Hammond Organ.

Where's Hughesdale? it's just a basic 6 step from Chadstone shopping centre, near Oakleigh in Melbourne.

Entry: $10pp inc our intro to swing mini lesson for those who want to give it a go. Full bar and menu all afternoon. Why not stay for dinner. Doors open from 2:30pm

Simba'r Table Bookings: 9569 5509