Book Duos, Roaming Minstrels, Trios or Bands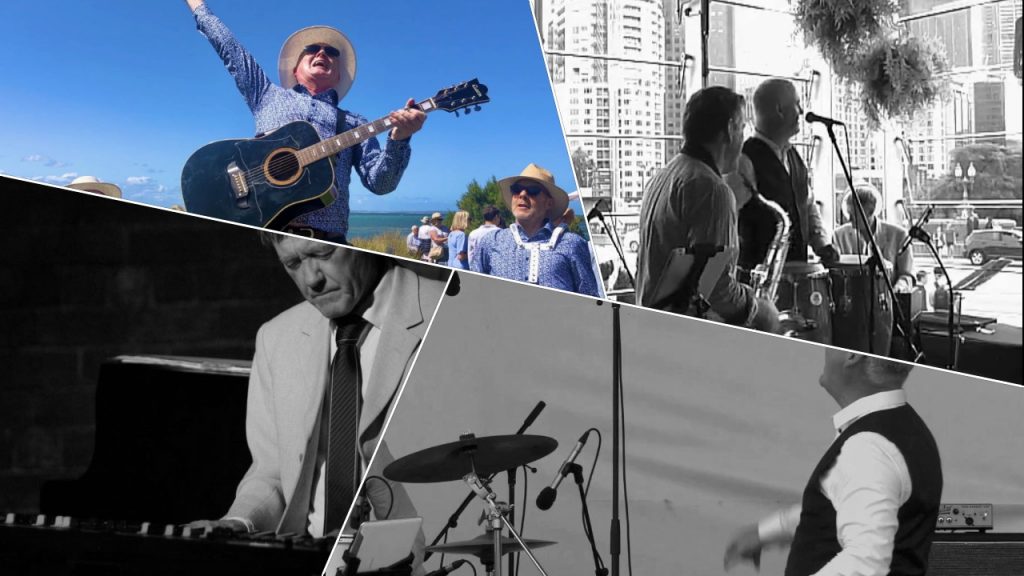 Our prices can vary and are negotiable depending on your requirements. Why not make a booking enquiry or see our quick direct price guide to get an idea.
Our Range of Acts – Click Arrow For More
Chilled Vibe Soloists - Starting From $200

Soloists for all occasions. Acoustic guitarist – singer, solo piano or soulful sax.

Soulful Piano Duo - Starting From $400

Playing classic hits and the best of today. Perfect for cafe's, wine bars, club lounges, winery cellar doors and function guest meet and greets. You can also add sensual sax for that extra special touch.

Fun Roaming Minstrels - Starting From $350

Cheeky, engaging, interactive and a lot of fun when these roaming minstrels perform tunes loved by all.

From Little Richard to Bruno Mars. La Bamba to Uptown Funk. Perfect for outdoor events, festivals PR, shopping precinct activations, markets, community engagement events and house parties.

All sizes available. From two minstrels for small events, private functions, birthdays and family ocassions. Right up to 10 minstrels for major street parades, festivals and community events

Cool Jazz Trio or Party Trio - Starting From $600

Bring first class, smooth and stylish entertainment for your event, venue, corporate or private function with our Cool Jazz Trio.

Or just have a whole lot of dancing fun with our engaging classic hits and the best of today party trio for any event or function.

Good Times Party Band - Starting From $800

Your choice of quartet for small affairs right up to seven, even 8 piece with our optional and impressive big brass section for your major function or event. Performing popular hits from Van Morrison to Adele. Elvis to Justin Timberlake. Music for the young and the young at heart.

Swingin' Blues Quartet - Starting From $800

When only foot tapping New Orleans style blues and great swing dance music will do. Performing classic Blues and Swing songs from the greats like Ella Fitzgerald, BB King, James Brown and many many more.

The Jackson Combo - Perfect for Weddings, Engagements and Family Functions

From weddings, engagements, birthdays and anniversaries we've had many years experience providing entertainment for special family occasions. And we can provide genuine references from happy and satisfied customers.

Weddings? We perform music for all ages and all tastes. From Louis Armstrong to Bruno Mars. Starting with perfect cool background music for guest arrivals/canapes. Entree and dinner that sets the right atmosphere. Through to everybody up on the dance floor.

We play a wide range of songs to suit 'ALL' your guests tastes. Be they young or just young at heart. We'll bring a unique quality of professional and entertaining musicians playing Blues, Rock, Jazz, Soul and Pop music. From the classic rock and soul greats to the hits of today for your special occasion.

We can also provide a soloist or duo in the reception or foyer for guest arrivals/canapes. And we can do up to two special songs, not in our repertoire' that you request. So your special song, wedding waltz, team, club anthem or a personal favourite can be played.

All members of the band have played for over 35 years at functions and weddings at many of Victoria's major function venues. The Windsor, Grand Hyatt, Crown, The Hilton, Langham, The Brighton Savoy, Red Hill Winery, The Sheraton and The Stamford just to name a few.

But if your function is only a small 'at home' or 'house party' affair , we're happy to make it a memorable occasion for everyone.

Other Services and Mix & Match Options

Why not add an MC for your function? How about a solo piano or sax for when guests arrive? Maybe a duo, trio followed by full band to create a complete show? The choice is yours and we're happy to discuss and work with you to create the perfect entertainment package for you function or event.

To receive a quote online for your venue, function, event or festival, please fill out the form below. And we'll get back to you with our quote ASAP. You can also call us on: 0419 230 860 to discuss your venue, function or event entertainment requirements. View and download our ever expanding [Songlist].
Booking Enquiry
Please Note: We are aware that some enquiries via the form below are not getting through to our email.
However, we currently check the system 2 to 3 times per week. We will then respond quickly.
If you would like us to respond to your enquiry immediately, please call us 0419 230 860
Please Note: Your privacy is important to us and we will not share your email or details with any third party.
Quick Direct Price Guide
No agency or third party costs involved – Direct band booking prices
Small Gig Metro Package: Starting From – Band: $800 – Trio: $600 – Duo: $400
Melbourne Metro only (50kms max from GPO)
Vocal (up to approx 150 guests) PA and lights inc
Set up no earlier than 2 hours before gig
Up to 3 x 45 sets or equivalent performance on stage time
Fun Roaming Minstrels Metro Package For Community, Corporate, PR Events and Shopping Precinct Activations: Starting From – $400
Up to 50kms from GPO (Further distance price negotiable)
Arrive no earlier than 1 hour before gig
Rolling 30 minute sets over a 3 hour booking
From duo size roaming minstrels for small private birthdays and functions up to 10 piece for community, corporate and festivals

Corporate Metro Package: Starting From Band: $1200 – Trio: $900 – Duo: $600
Up to 50kms from GPO
Set up no earlier than 3 hours before gig
Band (up to approx 250 guests) PA and lights inc
Up to 4 x 45 sets or equivalent performance on stage time
Additional Quote Required To Above Package For:

Full production PA/lights systems delivered, set up and fully operated for large venues (300+ guests)
Extra soloist or duo for pre function meet and greet or foyer welcome entertainment if required

Small Regional Function Package: Starting From Band: $1400 – Trio: $1000 – Duo: $800
Up to 150kms from GPO
Vocal PA and lights Inc.
Set up no earlier than 2.5 hours before gig
Up to 3 x 45 sets or equivalent performance time
Regional gigs over 150kms – accommodation, meals and travel cost negotiable.
The above prices are our basic starting prices depending on requirements. Fill out above form or call for an accurate quote.
All Prices – No GST Required