Blues Hip Jive is a jive party concept show developed between the management teams of two or Melbourne's most successful and hard working Blues bands: The Jackson Four and Andy Phillips & The Cadillac Walk ; where the combination of the blues, groove, jazz and swing hammond B3 music of The Jackson Four complements the driving texas blues and rock of the Cadillac Walk band. The show combines the two bands throughout the show for exciting musical experiences too, and if that is not enticing enough in itself, a very special guest is featured each show!
On their national album tour Keith Hall and Pat Dow Band (Chain Award Finalists – Best Blues Band 2016) will join us for our April event!
There really is something for everyone at this show. Do you love the blues, enjoy exceptional musicianship? love a bit of rock? enjoy the sax or hammond organ? love to dance? love to socialise? love good food or a good coffee? enjoy a cocktail? love seafood? appreciate friendly staff, easy parking, public transport accessibility and comfort? TICK TICK TICK √ we have it all for you.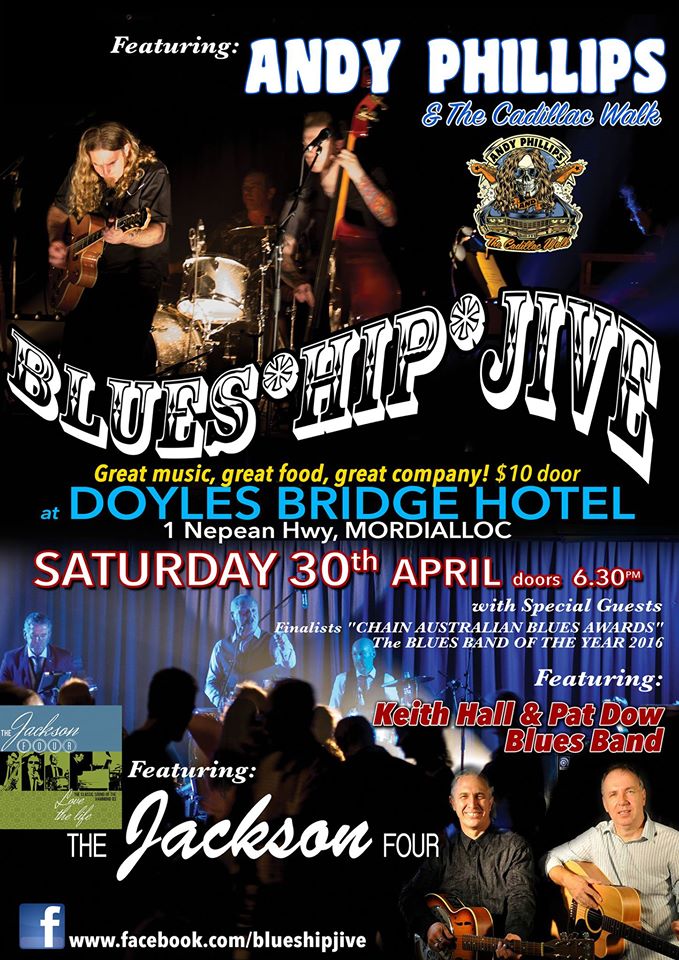 Doyles Bridge Hotel has also been hand selected by the BHJ Team offering exceptional surroundings, great food, both casual and fine dining, dance floor space and all the comfort you would expect from a five star establishment. Gorgeous surroundings include a deck overlooking the water and sea views.
Mark your calendar for this very special event, Blues Hip Jive parties are only held a handful of times a year, so dont miss out,
– see you soon for a boogie!
Doors open 6.30pm $10 at the door.